Play with Alice & Smith!
Download your complimentary copy today!
Play - it's the way young children learn!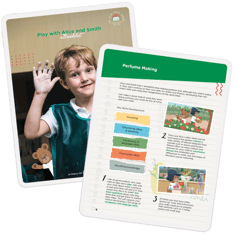 Inside our FREE eBook you'll find:
Activities for you and your child to do
Ideas for play at home using simple everyday items
Insights from our experts on how the activities are preparing your child for future success
Information about how our play based approach at Alice Smith works
Kindergarten: Pre-school, Reception and Year 1 For 3 - 5 years olds
At The Alice Smith School your child will enjoy play-based learning experiences that are planned around your child's interests, curiosities and their natural quest for knowledge; leading to inquiry, investigations, discovery and active hands-on exploration.
The Alice Smith School follows the English National Curriculum.

Inspiring your child to engage in activities which do exactly this is at the root of our approach. Our highly skilled and knowledgeable staff provide a challenging, rigorous and engaging curriculum. This is supported by teaching which is heavily influenced by a number of recognised approaches as to how children best learn at this age including Reggio Emilia, Anna Ephgrave, Maria Montessori and Alistair Bryce-Clegg.