Questions to Ask School Admissions Officers
Download your complimentary checklist today!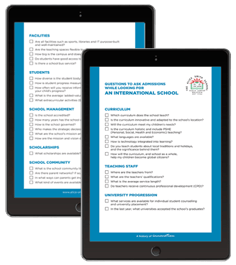 We want to help you find the perfect school whether it's a British international school, an American international school or an international school teaching the International Baccalaureate (IB) programme.
Finding an international school that has everything you care about and more can be a daunting process - particularly with the infinite resources at your fingertips. This is why we produced the admissions checklist that will help answer:
Will the curriculum meet my children's needs?
How often will I receive information concerning my child's progress?
In what ways can parents get involved in the school community?
From the checklist, you'll discover the questions to ask the admissions team including, but not limited to:
Curriculum
Teaching staff
University progressions
Facilities
Students
School management
Fill in the form to the right to download your complimentary checklist of the right questions to ask an admissions officer during your visits to international schools.